The mission of Advanced Therapeutic Solutions for Anxiety is to provide quality care to children, families, and adults, applying innovative and evidence-based approaches that work. ATSA is a small clinic which means that the staff act more as a family than coworkers. We take our role seriously to ensure that patients receive the best quality of care, even if that means we refer them to another clinic. If you are a dedicated professional who wants to make a positive difference in the lives of others, ATSA may be the right place for you!
Open Positions
Licensed Clinical Psychologists (Ph.D., Psy.D., Ed.D.)
Clinical Psychology Internship
Speech & Language Therapists (treating pediatric/adolescent population)
Psychiatrists (pediatric, adult)
Administrative Positions
Other Opportunities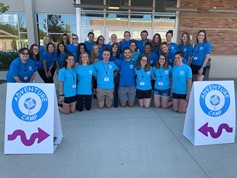 In addition to our paid positions, we also offer summer internships for undergraduate college students as well as practicum clinician positions for graduate students. Additionally, we train professionals who want to learn about selective mutism treatment through our Adventure Camp Counselor program which runs annually in late July/early August.
Calling all pediatric providers!
Become an Adventure Camp Counselor!
Applications are accepted from educators, speech pathologists, occupational therapists, psychologists, social workers, psychiatrists, and other pediatric providers. Learn skills from the training to take back to your place of work to help a child with selective mutism, help others learn, and continue to spread awareness. ISBE and IDFPR credits available.
How to Apply