Adult Outpatient Services
The Mental Health America (MHA) organization has released the annual State of Mental Health in America report showing that 19% of Americans are living with a mental health condition. These data, gathered in 2017-2018, show a rise from the previous year's dataset. This is consistent with the National Comorbidity Study Replication (NCS-R) estimating that 19.1% of American adults have had an anxiety disorder in the past year, and that 31.1% of Americans will experience an anxiety disorder at some point in their lifetime.
Impact of COVID-19
The stress of COVID-19, social unrest, financial stress, health care concerns, grief, loss, and disruptions in education and jobs have contributed to heightened stress and anxiety. To learn more about the recent impact of COVID-19 on mental health, MHA analyzed data from their online screening program between January and September 2020. Their findings show that rates of anxiety have skyrocketed since the pandemic. Specifically, 93% more individuals took the anxiety screener between January and September than in all of 2019, and 8 in 10 people reported moderate to severe anxiety on the screener, with loneliness and isolation being one of the top three reasons contributing to their mental health problems. 
The American Psychological Association recently released their Stress in America report echoing similar findings as the MHA report. Surveying adults online by the Harris Poll on three different time points between end of April to beginning of July 2020, APA found that an estimated 1 in 5 adults report that their mental health is worse than this time last year, with Generation Z (ages 18 - 23) reporting worse mental health than millenials (ages 24 - 41), Generation X (ages 42 - 55), Baby Boomers (ages 56 - 74) and older adults (ages 75+). It is possible that the current disruption and uncertainty we are facing today will impact future health outcomes in the U.S., as well as worldwide.
This is where treatment can make a difference. Even though anxiety is very treatable, an estimated 60% of adults go untreated according to the National Institute of Mental Health (NIMH). It is because of this need that Advanced Therapeutic Solutions for Anxiety aims to increase awareness, education, and treatment for this population. 
At ATSA, you can expect to receive evidence-based treatments that aim to provide you with psychoeducation and intervention, as well as guidance on maintaining your treatment gains. Outpatient treatment begins with an intake session to collect a full history and review of systems, followed by 1-2 sessions to test response to interventions to gather more data, and a treatment planning session to discuss the results (including diagnoses and rule-outs) and a proposed treatment plan. In these first few sessions, we provide you with the information you need to make an informed decision on whether or not to pursue treatment at ATSA. We are very intentional in our process with the aim of bringing you hope and solutions. 
What We Treat
As you read through the following links, you will see an outline of how treatment sessions may be laid out for specific conditions. These are provided as examples so that you can see our overall process, which is informed by evidence-based treatment research. 
COVID-19 Anxiety and Stress     Agoraphobia       Panic Disorder       Generalized Anxiety Disorder       Social Anxiety Disorder (Social Phobia)       Specific Phobia       Test Anxiety       Adjustment Issues      Depression       Separation Anxiety Disorder       Selective Mutism
We hope this information helps you learn about what you can expect from coming to ATSA. Still have questions? Call our Intake Coordinator at 630-230-6505. We are here to help!
Twelve-month Prevalence of Mental Illness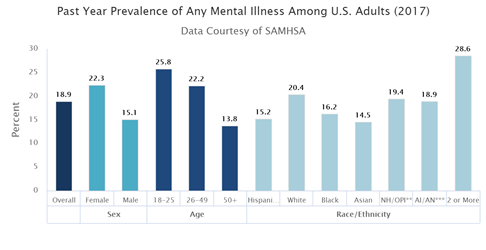 Twelve-Month Prevalence of Anxiety Disorders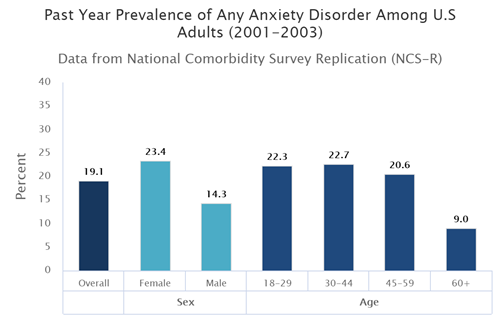 Degree of Impairment