This is a paid practicum.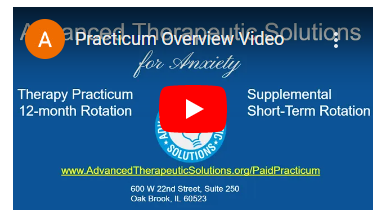 Sign up for our Practicum Updates
Who We Are
Advanced Therapeutic Solutions for Anxiety provides empirically-validated treatments in clinical, school, home, and community settings. The majority of our cases consists of selective mutism, social anxiety (social phobia), separation anxiety, school refusal, phobias, test/school anxiety, generalized anxiety, and adjustment issues. Comorbid presentations include ADHD, ASD, OCD, and mood disorders. We offer individual therapy, group therapy, and intensive therapy sessions. Our most well-known program is Adventure Camp (AC). As the first in the nation to replicate Kurtz's Brave Buddies (now called Mighty Mouth Camp), it is the only intensive group therapy in the midwest that provides treatment for selective mutism using the PCIT-SM model. Practicum clinicians can expect to participate in Adventure Camp and learn the Adventure Camp treatment protocol. 
What to Expect from a Practicum at ATSA:
Continue to develop your clinical skills using evidence-based treatment interventions including Exposure and Response Prevention (ERP), Acceptance and Commitment Therapy (ACT), Cognitive Behavioral Therapy (CBT), and Parent-Child Interaction Therapy Adapted for Selective Mutism (PCIT-SM), delivered in individual and group therapies, as well as intensive therapies (3- to 6-hour doses) to treat anxiety disorders and comorbid conditions.
Participation in ATSA's Adventure Camp Counselor Training and 5-day group therapy, Adventure Camp Intensive Group Treatment for Selective Mutism.
Gain a greater understanding of what it means to "think on your toes" when learning the nuances, problem-solving, and pivoting while applying exposure therapy in the clinic, home, school, and community settings.
Gain experience collaborating with educators, including providing psychoeducation to school teams to help with treatment carryover into the school setting.
Gain experience collaborating with parents, providing psychoeducation and parent guidance to maximize treatment outcome and maintenance of treatment gains outside of the clinic setting.
Weekly 1:1 supervision and monthly group supervision to become more in-tune with your skills, trust your knowledge, and build your confidence in tailoring treatment plans.

As a practicum clinician at ATSA, you are enrolled in professional memberships such as ADAA and SMA.
Are you looking for our Supplemental Short-Term Intensive Practicum? Visit Adventure Camp Counselor Training.
Have Student Loans? Attend this webinar!
Our Ideal Candidate Is ..
A master's degree level clinician with experience in treating anxiety disorders.
Eager to gain specialized training in the rare and commonly misunderstood condition of selective mutism.
Dedicated to provide exceptional services within the patient's ecosystem including at home, school, clinic, and in the community.
Passionate about providing psychoeducation to youth, parents, and teachers on how to recognize and decrease anxious-avoidance behaviors.
Ready to embrace ATSA's "Use Your Brave" motto as you become comfortable with being uncomfortable implementing exposure therapy.
Ready to immerse yourself into the rewarding experience of making a difference in the lives of children and families.
Still early in your training, but interested? Consider Adventure Camp Counselor Training
From a previous Practicum Clinician ...
"I gained many skills and grew as a clinician during my time as a practicum clinician at ATSA. Learning how to provide PCIT-SM has given me a unique skill set, and it has also informed how I approach working with clients with other diagnoses. The parent training component of PCIT-SM has given me the skills and experience of recommending to parents how to best help their children, regardless of their children's diagnosis. I also learned a lot about consulting and collaborating with other professionals during my experience at ATSA, including other clinicians, speech therapists, school social workers, and teachers. The most impactful part of my practicum experience was the confidence that I gained with in-the-moment coaching of parents, teachers and other professionals, and community members. I felt very supported during the practicum, as there was a good balance of supervision and independence. I experienced more confidence and independence with my clinical skills over my time in the practicum."