Child Outpatient Services
The National Survey of Children's Health (NSCH) gathers information about the physical and emotional health of children ages 0-17. Data collected allows researchers to study the prevalence of specific conditions. For example, analyzing the data collected in 2016, Cree and colleagues (2018) found that of the children between the ages of 2 - 8 years old, one in six kids had a mental, behavioral, or developmental disorder. In the Journal of Pediatrics, Ghandour and colleagues (2019) also analyzed the data of 2016 to estimate prevalence of depression, anxiety, and behavioral/conduct problems in children and adolescents ages 3 - 17. They found 7.1% of children had current anxiety, 3.2% of children had current depression, and 7.4% had conduct/behavioral problems. They also found that the presence of anxiety and depression increased with age. Analyzing the NSCH data from 2003, 2007, and 2011-2012, Bitsko et al (2018) found that rates of anxiety have increased 19% between 2003 and 2012, whereas rates for depression have stayed the same. Therefore, not only does the risk for anxiety disorders increase with age, but specifically, there has also been a sharp increase in anxiety disorders overall in children and adolescents in recent years.
Experts agree that early intervention and prevention is key for reducing the functional impact of anxiety and depression on children and adolescents, as well as reducing parenting aggravation and family conflict. Despite the recommendation for early intervention, about 20-40% of children with anxiety or depression surveyed in 2016 did not receive treatment (Ghandour et al., 2019). It is because of this need that Advanced Therapeutic Solutions for Anxiety aims to increase awareness, education, and treatment for this population. We do so by incorporating the child's ecosystem in treatment, aiming to address home, school, and community in the child's treatment plan.
At ATSA, you can expect to be included in your child's treatment since we know from research that not only is early intervention key, but parent education and involvement is also key to healthy outcomes in children. Outpatient treatment begins with an intake session with parent(s) so that we can gain a full history and review of systems before meeting with your child. Next is our child baseline assessment where we gather more information from your child, using play-based models. The third session is with parent(s) to discuss the results (including diagnoses and rule-outs), as well as a proposed treatment plan. In these first three sessions, we provide you with the information you need to make an informed decision on whether or not to pursue treatment at ATSA. Parents have given us feedback that our intake process is thorough and helpful, and beyond what they have experienced in other clinics. We are very intentional in our process with the aim of bringing you hope and solutions. 
What We Treat
As you read through the links below, you will see an outline of how treatment sessions may be laid out for specific conditions. These are provided as examples so that you can see our overall process, which is informed by evidence-based treatment research. 
Anxiety    Depression     Social Anxiety Disorder (Social Phobia)     Test Anxiety    Adjustment Issues     ADHD     Selective Mutism     Separation Anxiety Disorder     Generalized Anxiety Disorder     Agoraphobia     Panic Disorder     COVID-19 Anxiety     Specific Phobia     Behavioral/Conduct Problems
We hope this information helps you understand the importance of early intervention. Still have questions? Call our Intake Coordinator at 630-230-6505. We are here to help!
Looking for Adolescent Outpatient Services?
Integrated Treatment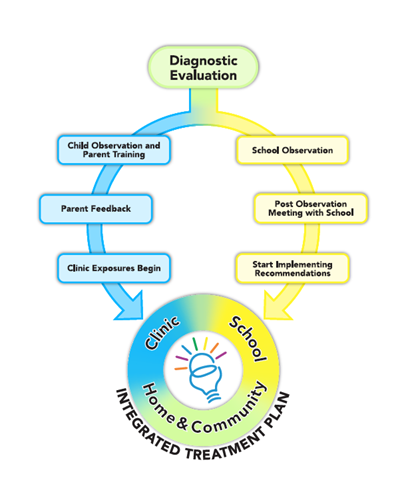 Evidence-Based Treatments
You may have noticed that when you take your child to the pediatrician, either you or your child is asked to fill out a brief questionnaire. That's because your child's pediatrician is implementing the recommendation for pediatricians to screen for mental health conditions, including anxiety and depression. This is a great first step to identify those at risk for anxiety and mood disorders, but what happens when a child or adolescent is flagged as at risk? Ideally, your child's pediatrician will refer you to a mental health therapist who uses evidence-based treatments. However, how can they know for sure that the therapist is adequately trained and competently delivering evidence-based treatments? At ATSA, our therapists not only have the masters or doctorate degrees, but they also have advanced training and certifications in evidence-based treatments to treat anxiety disorders and related conditions. Click below to learn more about our evidence-based treatments.