College Summer Internship in Psychology
Applications for 2024 Summer Internship now Open!
Serve as a "confederate" in therapy sessions, collect data, and serve as Psychologists' assistants in this innovative organization that treats phobias in children. Apply early for this competitive internship!
Receive our Internship Updates
Opportunities and Responsibilities
Receive weekly Professional Development Seminars focused on graduate school preparation, including hearing presenters talk about their graduate school path in various disciplines (social work, psychology, education, etc.) to help you decide your own path
Learn about the logistics of graduate school funding and how to minimize student loans
Gain a better understanding of the various graduate school paths and life after graduate school
Participate in weekly Intern Group Meetings focused on learning about group process
Attend a 2-day selective mutism training seminar
Serve as "confederates" in therapy sessions for children with selective mutism
Assist the ATSA Team with daily clinic duties and routine
Gain experience in completing phone intakes and triage of calls
Have the opportunity to submit abstracts for conference presentations
Gain experience in marketing a psychology practice, including social media outlets
Serve as a psychologist's assistant during ATSA's Adventure Camp for children with selective mutism
Complete your internship by gaining hands-on clinical experience working directly with children at Adventure Camp!
Please note, this internship is unpaid and follows the criteria required for unpaid internships.
Requirements
3.5 cumulative GPA or higher is recommended, open to all majors (psychology majors

 

strongly preferred

)
Outstanding oral and written communication skills
Organized, responsible, and interpersonally effective
Strong critical thinking skills
Ability to work well independently, with minimal supervision 
Ability to work collaboratively among a team of interns and staff
Ability to intern

in-person

at ATSA clinic, June 3rd - August 9th, Tuesday - Friday, 9am - 5pm (with extended hours during Adventure Camp week)
How to Apply 
Please submit the following:
Cover letter
Résumé
Personal Statement (please include a photo of yourself) 
College Transcript
2 letters of recommendation, with "Recommendation for [NAME]" in the subject line 
NOTE: Only when we have received your submission and letters of recommendation from your references will your application be considered complete and eligible for review.  
Deadlines
Round 1:
Application Deadline: Friday, January 19, 2024, 11:59pm Central Time
Interview Dates: February  - March 2024
Notification Day: All applicants will be notified by April 15.
Round 2: There are no round two dates for 2024 recruitment

Email all materials to SummerInternship@advancedtherapeuticsolutions.org
Living Arrangements
ATSA does NOT provide housing but we want to support you in your search to find options. Are you out-of-state or living in Illinois but too far from Oak Brook for a daily commute? We have collected a list of previous ATSA interns' advice for finding housing options that offer 10-week rentals. 
Interns Blog
Previous Interns
ATSA started offering our 10-week internships in 2014 and the interns have continued to impress us throughout the years! Learn more about our past interns by clicking on the corresponding year(s) below!
Why Do a Summer Internship in Psychology?
Listen to 2021 Interns' Podcast

Receive our Internship Updates
Congrats to 2022 Intern Mudmee on her second poster presentation!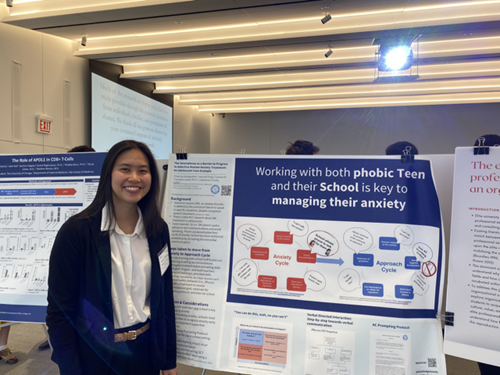 Congrats to 2022 Interns Mudmee and Hannah!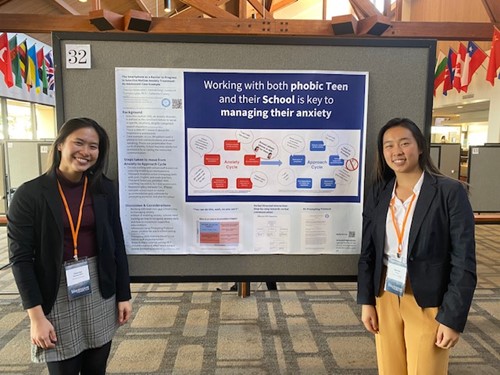 Mudmee and Hannah presented a Case Example at the SCCUR Conference in November!
2022 Intern Moments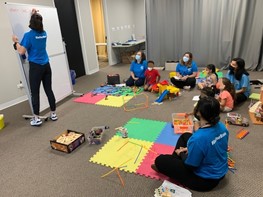 Interns participating during a group "circle time" exposure therapy session for our AC patients.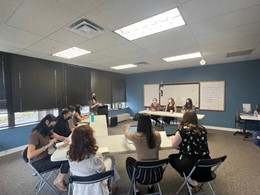 Interns learning the do's and don'ts about applying to graduate school from a panel of NIU Ph.D. Clinical Psych graduate students at one of our weekly Professional Development Seminars.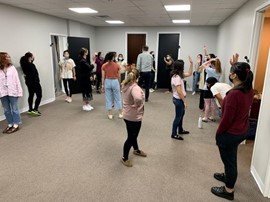 Interns at the Adventure Camp 2022 Counselor Training learning about PCIT-SM and exposure therapy.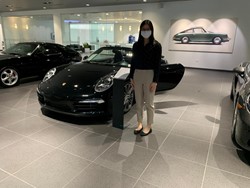 Intern Mudmee in the therapy "confederate" role, pretending to be a car salesperson during a patient's exposure therapy session.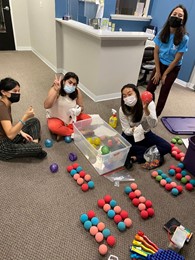 Megan, Hannah, and Lana are assisting the Intake Coordinator, Iris, in counting inventory of "recess" items for Adventure Camp week.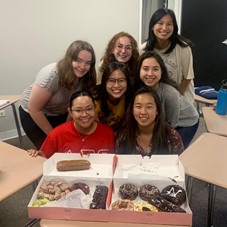 During orientation week, the interns learned about ATSA's values and responsibilities, practiced CDI and VDI skills, and became HIPAA trained. During one training activity, the winning interns chose a prize for the team to share: Stan's donuts!
Learn more about Adventure Camp!
Status Updates:
2024 Recruitment has begun!

Round 1 Priority Deadline: January 19, 2024


Round 2 Deadline: No Round 2 for 2024
Why Internship?
If you're pursuing a career in psychology, You will soon discover that doctoral programs in clinical psychology are extremely competitive.