In addition to providing services at the clinic, at home, in the community, and in schools in the state of Illinois, ATSA clinicians also practice through various out-of-state licensures and programs, allowing our professionals to provide services beyond Illinois.
PSYPACT for Out-of-State Patients
Short for The Psychology Interjurisdictional Compact, PSYPACT is an agreement between participating states that allows for telepsychology and temporary in-person treatment sessions across state boundaries. Advanced Therapeutic Solutions for Anxiety's director, Dr. Carmen Lynas, is licensed to practice under PSYPACT, extending her reach to patients in numerous localities outside of the Chicagoland area. See the table and map below to see which states participate in PSYPACT. Additionally, you can check the PSYPACT Commission's website at https://psypact.site-ym.com/page/About to see when your state's legislation becomes effective.
Out-of-State Licensures
Our other two clinicians, Ms. Cate O'Leary, LPCP and Ms. Elianna Platt, LCSW, hold licensures in multiple states. Ms. Cate is licensed to practice in Illinois and Iowa, while Ms. Elliana is licensed to practice in Illinois, New York, and New Jersey.
How Can This Benefit Me?
Our ability to serve individuals outside of our immediate environment significantly expands ATSA's area of operation by connecting patients with our clinicians via virtual sessions or brief, in-person treatment periods. If you are traveling, have recently moved, or simply live in a distant state, our specialists may be able to provide continuity of care.
PSYPACT Participants:
*Note: States "Under Review" are not considered participants at this time.
Full Participants
Enacted, Not Effective
Under Review*
Pending Legislation

Alabama

Nebraska

Kansas

(Effective Jan. 1, 2022)

Arkansas

(Effective March 1, 2022)

Wisconsin

Arizona

Nevada

Maine

(Effective Oct. 18, 2021)

West Virginia

(Effective July 6, 2021)

Massachusetts

Colorado

New Hampshire

New Jersey

(Effective Nov. 23, 2021)

 

 

Delaware

North Carolina

 

 

 

 

District of Columbia

Ohio

 

 

 

 

Georgia

Oklahoma

 

 

 

 

Illinois

Pennsylvania

 

 

 

 

Kentucky

Tennessee

 

 

 

 

Maryland

Texas

 

 

 

 

Minnesota

Virginia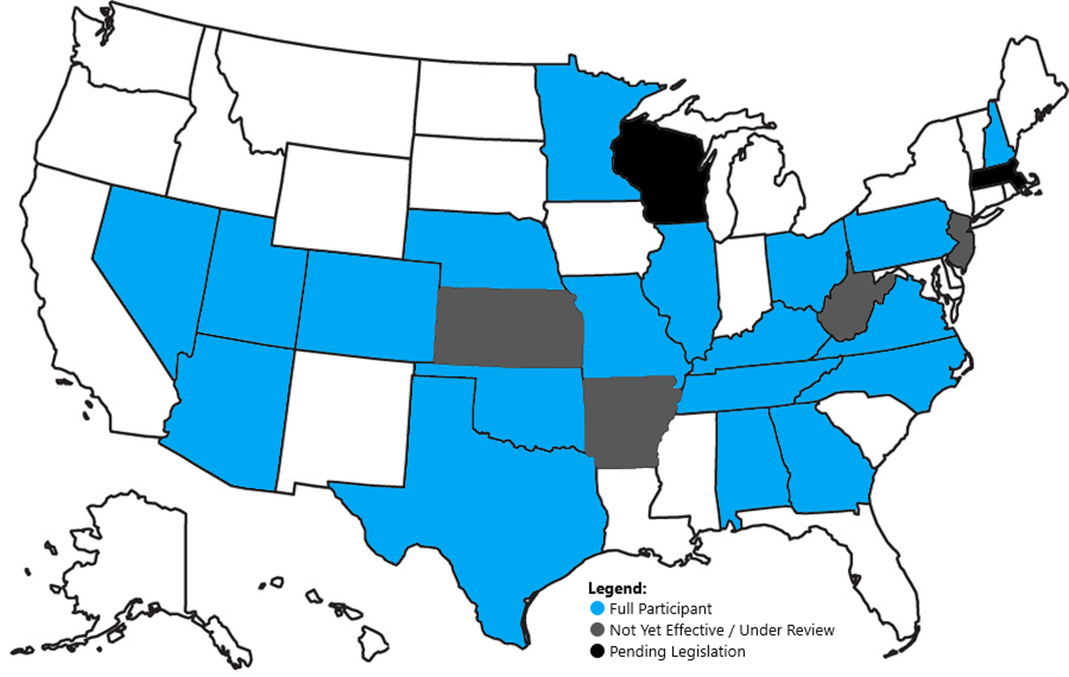 For more information about PSYPACT,
visit the PSYPACT Commission's website at:
https://psypact.site-ym.com/page/About