Undergraduate Opportunities in Psychology
Congratulations to 2022 Interns Mudmee Sereeyothin and Hannah Feng on their SCCUR Poster Acceptance!

During their 2022 summer internship at ATSA, Mudmee and Hannah learned about best practices for treating anxiety disorders, and in particular, selective mutism. Under the mentorship of Dr. Carmen Lynas, Mudmee and Hannah developed a case example poster of a patient receiving services at ATSA. They will be traveling to the Southern California Conferences for Undergraduate Research (SCCUR) in November to present their poster. By doing so, they are continuing ATSA's mission to spread knowledge and awareness about a misunderstood condition, selective mutism. They are also gaining valuable experience in conference presentation, which is important for disseminating research and best practices in the psychology field. We'd also like to thank the 16-yr-old who gave consent to tell their story through this poster presentation. They, too, are helping the field of psychology and other adolescents who are coping with anxiety.
Title: The Smartphone as a Barrier to Progress in Selective Mutism Anxiety Treatment: An Adolescent Case Example
Authors: Chacriya Sereeyothin (University of Chicago), Hannah Feng (University of Michigan), Carmen M. Tumialan Lynas, Ph.D. (Advanced Therapeutic Solutions for Anxiety), Cathleen O'Leary, M.A., LCPC (Advanced Therapeutic Solutions for Anxiety) 
Mentor: Carmen M. Tumialan Lynas, Ph.D.
Abstract: Between 2003-2012, Anxiety diagnoses in children and adolescents showed a 56% increase (Bitsko et. al, 2018). Incidentally, this increase coincides with the iPhone's invention in 2003. Selective mutism (SM), an anxiety disorder, is defined as the consistent failure to speak in specific situations (e.g., school), despite competent speech elsewhere, with a point prevalence of .71% (1 of 140). While interest in randomized-controlled trials (RCT) for SM treatment using behavioral and exposure therapy is growing, there are currently no RCTs with an adolescent population, and thus less is known about best practices to treat SM in adolescents. Adolescents have increased awareness of their avoidance and have the developmental capacity to engage in exposure therapy. However, challenges include more ingrained avoidance, ambivalence to change, and environments that rescue the patient from speaking by accommodating nonverbal communication.
This poster presents an example of a 16 year-old SM patient who used a phone to text their communications to avoid speaking (anxious-avoidance). Phone use perpetuated their cycle of avoidance. School teachers reinforced the avoidance by accepting the nonverbal communication. This poster presents 1.) how the maladaptive anxious-avoidance cycle prevents progress in reducing SM symptoms in school, and 2.) steps taken to move from an anxious-avoidance to an adaptive approach-coping cycle for the patient and their school. Steps included psychoeducation with the school on reducing avoidance-enabling maladaptive accommodations, increasing adaptive accommodations that foster approach-coping, in-vivo exposure in the school setting, and removal of the safety behavior (i.e., iPhone). Conclusions and lessons learned are provided.
Poster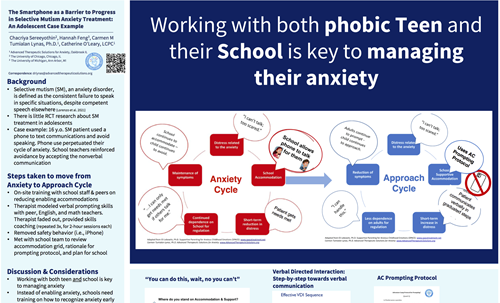 References
A View from Mudmee & Hannah's Trip to SCCUR!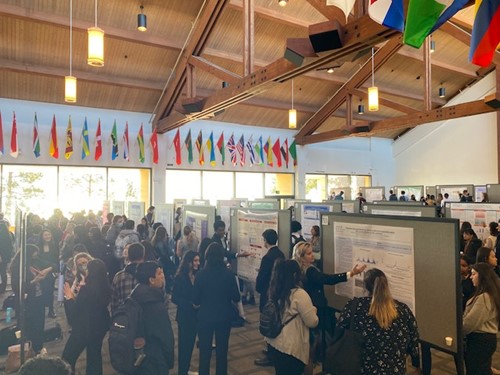 About the Presenters

Chacriya (Mudmee) Sereeyothin  is a junior at the University of Chicago, pursuing a B.A. in Psychology and a B.S. in Neuroscience. At the University of Chicago, she is the Director of the Committee on Educational Development for NEURO club, and the Co-Director of Community Engagement for UChicago United Against Inequities in Disease (UAID). She is currently researching insomnia in adolescents with pediatric neurologist Dr. Montida Veeravigrom at UChicago Medicine. Mudmee is fascinated by how scientific understandings of the mind and brain can help people who are struggling with neurological diseases, sleep disorders, and mental/mood disorders. One of her favorite experiences at her 2022 ATSA Internship was building supportive and trusting relationships with patients. She plans to take these skills with her as she pursues medical school after graduation.

Hannah Feng is a junior at the University of Michigan double-majoring in Psychology and International Studies and pursuing a minor in Business. At the University of Michigan, she is a research assistant for Kitayama Culture and Cognition and Warneken Social Minds research labs, a member of the pre-law fraternity, Kappa Omega Alpha, and is a writing fellow for Economics 101 this fall. Hannah is also the inaugural recipient of the Obama-Chesky Voyager Scholarship for Public Service. Her previous internship experiences include a mission trip in the summer 2021, which solidified her interest in Social Psychology and Cultural Psychology. She is intrigued by the interplay between culture and the expression of neurodiversity. After her own difficulties accessing mental health services, she is committed to making therapy more culturally sensitive and financially accessible for underserved communities. Given that ATSA's mission also includes reducing treatment disparities by providing its free selective mutism training through Adventure Camp, Hannah's values were a great match for the ATSA internship which she completed in the summer of 2022. Through the ATSA internship, Hannah gained hands-on clinical experience, learned Adventure Camp Prompting Skills, and developed a passion for working with anxious youth. Hannah plans to research cross-cultural therapy techniques en route to earning her Ph.D. in Clinical Psychology and provide culturally-sensitive therapy as a future psychologist.