COVID-19 Current Safety Procedures
Update!
Illinois lifts the mask mandate Feb 28!
If you are a current patient, please check your email to sign an additional consent form regarding masks during treatment. Call 630-230-6505 if you did not receive the email.

Illinois Mask Mandate was lifted on Feb 28th. As a healthcare clinic, our staff will still be wearing masks, and we ask adults to continue wearing masks in the waiting room.
DuPage County's community level of risk is Low as of 3-03-2022. To view your county, use the CDC's COVID-19 County Check.


Chicago Travel Advisory
To maintain the health and safety of our staff, patients, and families, ATSA is strictly abiding by the Chicago Travel Advisory. We also ask that you take necessary precautions when making plans as we move forward. If you experience COVID-like symptoms, please call 630-230-6505 to reschedule your in-person appointment to a telehealth appointment.
As of 3/03/2022, 46 U.S. states and 1 territory are categorized as orange. See more specifics regarding policies and state status on the Chicago Travel Advisory website.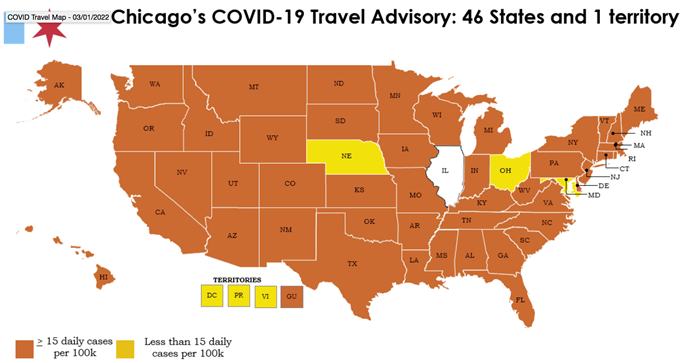 Safety Procedures in Response to COVID-19
We continue to provide in-person and telehealth therapy options, and we will be moving forward with Winter Adventure Camp 2022 and Adventure Camp 2022 at ATSA. To ensure the safety of our patients, families, and ATSA staff, the following procedures are in place. These procedures are derived from the Center of Disease Control and Prevention, the Illinois Department of Public Health, the DuPage County Health Department and other government guidelines. 
If you experience COVID-like symptoms, please call 630-230-6505 to reschedule your in-person appointment to a telehealth appointment.
There are now over-the-counter rapid tests you can purchase at local pharmacies! Click here to see what CVS offers.
ATSA will continue to limit the number of people inside the clinic and enforce safety guidelines through the following proactive measures (see below).
When you Arrive at ATSA:
As a healthcare setting, we are still requiring masks in the clinic.

We ask that only necessary people enter the suite, having siblings and other family members stay home if possible.

Doors will be propped open to reduce the need to touch door handles.

The only door that will close is the black door between the therapy rooms and waiting room to ensure the privacy of our patients.

Hand sanitizer is available upon entering the suite. Please note that the building has automatic hand sanitizer pumps throughout.

Your and your child's temperature will be taken at arrival.

Patients need to sign our

"COVID-19 Acknowledgement Form,"

PRIOR to their in-person session. This form acknowledges that neither the patient nor anyone in the patient's household has knowingly been exposed to COVID-19 or has had COVID-like symptoms within the last 10 days.
Therapy Sessions, Lead-In Sessions, and Adventure Camps
All adults will be wearing face masks throughout Therapy Sessions, Lead-Ins, and Adventure Camps.

ATSA therapists and staff are fully vaccinated.

Adult and children's temperatures and symptom screener will be conducted before each outpatient Therapy Session.

All ATSA staff, Counselor, and Camper temperatures will be taken at the beginning of each Lead-In session and at the beginning Winter Adventure! Camp day and daily at Adventure Camp.

Patients are to bring their face masks to all appointments. If they forget theirs, we will have extras available.

During Therapy Sessions, including Lead-In sessions, Parents are to return to their cars to wait rather than waiting in our waiting room (exceptions will be made based on treatment needs).
Cleaning time to properly sanitize and rotate supplies will be scheduled into Therapy Sessions, Lead-Ins, Winter Adventure, and Adventure Camp protocols.

For Winter Adventure! and Adventure Camp, drop-off and pick-up will continue to occur outside in a designated drop-off/pick-up area.
While we understand that these changes make sessions a bit more tedious, please understand that we are working hard to comply with not only following government regulations, but also ensuring the safety of our patients, families, and staff. We will continue to monitor the recommendations from the IDPH and update our protocol as needed. We believe that moving forward with these new procedures is the best way to continue provide treatment services while keeping our community safe and healthy. Thank you for your support, and we look forward to "using our brave" together!
Illinois is currently in Phase 5.
We are in Phase 5 of the COVID Re-opening Plan! Click here to learn more about Phase 5.
Page Last updated 03/03/2022
ATSA is following the guidelines from the Restore Illinois Plan as well as the Chicago Travel Advisory.  ATSA is currently offering both In-Person or Teletherapy Appointments. As of February 28, 2022, the state-wide mask mandate has been lifted. Masks are still recommended in healthcare settings regardless of vaccination status. See more on the CDC Website Here.
COVID-19 Vaccination Information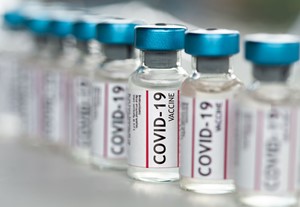 In efforts to avoid spreading the Coronavirus, ATSA therapists and staff are fully vaccinated for COVID-19. We also want our patients to have resources if they are interested in becoming fully vaccinated. The most recent Illinois update states that any resident 5 and older is eligible to get the COVID-19 vaccine, and the vaccine booster is available for ages 12 and up. If you or a member of your family is interested in receiving the COVID-19 vaccine, we recommend checking this website to search for a vaccination site:
You may also want to check your local pharmacies (CVS, Walgreens) or contact your primary healthcare physician to see if they have appointment options. Feel free to reach out to ATSA Intake Coordinator for additional resources, 630-230-6505.
ATSA Clinicians, Staff, Counselors, & Interns
Please Click the "Complete the Training" button below to complete the "ATSA Safety and Compliance Training on Health Protocols and Expectations to Mitigate Risk of COVID-19". Then, Click "Take the Quiz" when you are finished. Note that this training was last updated in April 2021; most recent/summer updates will be discussed during Intern Orientation and Counselor Training.