FREE Webinar by Student Loan Planner - You don't want to miss this!
Hosted by Advanced Therapeutic Solutions for Anxiety and presented by Student Loan Planner!
Learn:
What to know BEFORE and AFTER securing educational financing
Get expert advice on how to STRATEGIZE your loan repayment
REAL LIFE examples of some attendees' NSLDS files to demonstrate the savings you can make on your loans. The consultant will demo as many borrower's NSLDS files they can get through during the presentation. No private information will be shared. If you'd like to submit your file, please contact Kelsie@advancedtherapeuticsolutions.org for instructions.
Intended Audience:
Students considering loans
Students with current loans
Graduates/Professionals in loan repayment
Who can attend?
Open to ALL those associated with Advanced Therapeutic Solutions for Anxiety! (Past, present, and future interns, practicum clinicians, staff, patients, and families)
Open to ALL ACEPT members! (Students, faculty, training directors)
Anyone who needs it! (Feel free to pass along to classmates and colleagues)
When:
Saturday, November 12, 2022 10:00am-11:30am Central Time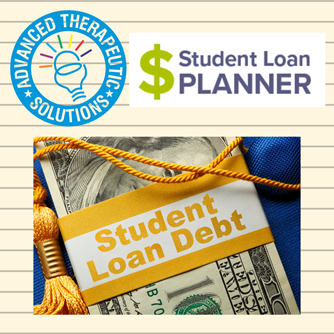 Apply for Student Loan Debt Relief - Click Here
Interested in a Practicum, Internship, or Postdoc? Click below!