Hierarchical SM Exposure Ladder for Lead-In Sessions
Many parents are concerned that their child will not be able to pass lead-ins because they doubt their child can talk to so many new people so fast. Please don't judge now whether or not your child can pass lead-ins. That's what lead-ins are for! They are treatment interventions that help condition your child to each person involved during camp using a systematic approach. Lead-Ins are constructed to help your child reach the goal of camp; children are not expected to start an intensive group treatment "cold." The lead-in sessions are meant to warm your child up gradually and systematically to the therapist, counselor 1, counselor 2, and eventually to another camper, respectively. Once they complete those sessions, then they are ready for camp.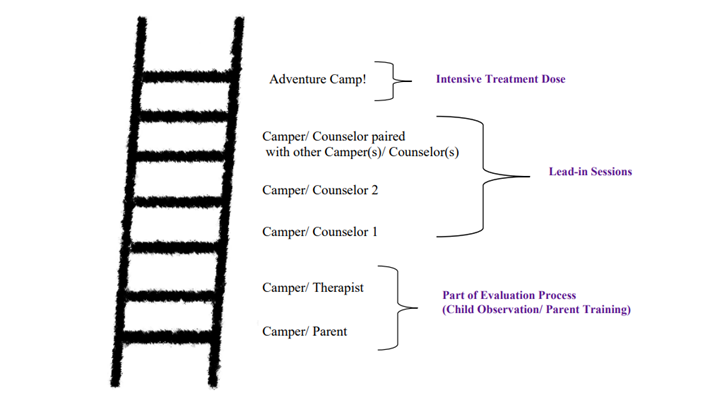 Clinical attention goes into pairing your child with specific counselors based on temperament, professional experience, and symptom severity. When pairing with other camper/counselor dyads, the children's ages are matched as well. Since lead-ins are reliant on persons involved (i.e. parent, therapist, counselors 1 & 2, another camper/ counselor pair), scheduling is very methodical and interdependent. Therefore, we require families to be available during the time frame lead-ins are to be scheduled (refer to Important Camp Dates) and CANNOT take requests for specific dates. ATSA STRONGLY recommends that families reschedule any events that are currently booked between the reserved lead-in weeks. ATSA will charge a $150 fee for EACH change request, and rescheduling is not guaranteed. Again, see Important Camp Dates before you commit to Adventure Camp! 
The information above comes from Adventure Camp FAQ's 3.10-3.15. 
Quick Lead-In Facts
Our track record shows that about 96% of children going through lead-ins pass successfully in time for the intensive camp treatment. Those are great odds!
For children who are not current ATSA patients, there will be a minimum of 3 lead-in sessions (in addition to the 3 required evaluation sessions).
For current ATSA patients, you can ask your clinician for an estimate of the number of lead-in sessions needed for your child
The lead-in session schedule will be released by the end of June for Adventure Camp, and the end of December for Winter Adventure.
If your child does not advance through the lead-ins as expected, and ATSA makes the clinical decision that your child is not ready for camp, then you are refunded the camp fee in full. Different circumstances apply if parents choose to withdraw their child - see the WITHDRAWAL portion in the Adventure Camp Agreement found in the Parent Packet for more explanation of these terms