ATSA's 1-day Selective Mutism Intensive Treatment: Winter Adventure!
Winter Adventure! One-Day Intensive on MLK Day
Similar to Adventure Camp, Winter Adventure simulates a classroom setting within a therapeutically supportive environment. Using exposure-based therapy, children are led through a series of verbal exposure opportunities that start small and grow larger as the day progresses. Each child has their own counselor who provides them with the scaffolding needed to meet each challenge, fostering confidence in each child.
Why Winter Adventure?
Winter Adventure provides a one-day (6 hours) intensive dose of treatment that can serve to jump start traditional therapy, or it can also be a "booster" to therapy graduates, specifically Adventure Camp graduates. It runs every year on Martin Luther King Day in January.
If your child has started or is about to start outpatient therapy, Winter Adventure can help to expedite treatment.  With the intensity of the lead-in sessions to prepare for camp days prior, as well as the six hours of intensive treatment done in one day, your child has the opportunity to accomplish as much results, or perhaps even more results, than what you can accomplish with 1-hr therapy sessions over six weeks.  Exposure therapy research supports the notion that frequency and duration of sessions are keys to successful resolution of anxieties and phobias; at ATSA, see that evidence first-hand in our work with kids with selective mutism and social anxiety. 
If your child has completed Adventure Camp and you would like a booster dose to help rekindle their motivation, the one-day Winter Adventure camp can serve that purpose, too.  Adventure Camp families and counselors remember all too well what a rush camp week was, and the way it invigorated and empowered the campers, parents, and the counselors! But sometimes the momentum starts to wane mid-year. Winter Adventure is a great place to rejuvenate that rush to help keep campers motivated to face the rest of the school year.
If you are thinking about the one-week summer Adventure Camp for your child, Winter Adventure's one-day program can serve as a nice preview, allowing you and your child to see what it's like for one day.
Program Highlights
Each child is paired up with a trained counselor
Children are assembled in a simulated classroom to participate, with the support of their assigned counselor, in the activities of the day
The day is structured like a typical school day, with circle time, free play, and snacks/lunch.  In the afternoon, there will be a visitor from the community who will facilitate a group project
Each activity is designed to provide the children with the opportunity to practice "brave talking" and social interaction.  Each approximation to speech is reinforced immediately by the child's assigned counselor
Children serve as models for each other; when they witness their peers making attempts to use their brave, they will likely try as well
At the end of the day, children cash in their reinforcements at the Prize Store
Winter Adventure! vs. "Usual and Customary"
| Winter Adventure! | Usual and Customary Therapy |
| --- | --- |
| $105/hr x 6hrs | $180 - $240/hr x 6 hrs |
| $630 | $1,080 - $1,440 |
| 1 Day (saved 1.5 months of time) | 6 weeks (1 1/2 months) |
| See gains quicker | Takes longer to see gains |
| Classroom Simulation, Group Setting | Office Setting |
| Carryover effects into school is more likely | Less carryover effect into school |
Preparation for Winter Adventure: Lead-in Sessions
Lead-in sessions are necessary to prepare for camp. During the lead-in sessions, your child is gently exposed to one counselor, then counselor #2, and then eventually to another camper, thus expanding their social interaction from 1 person to 3 people. Once your child is able to respond to the counselors in front of another camper, they are ready for the group camp intervention. The lead-in sessions are not like general meeting sessions. Therapeutic methods are used in the lead-in sessions to facilitate and reinforce verbal communication to prepare your child for the camp.
Want to Keep Informed?
Click Here to sign up to be notified when the next camp registration opens!
Are you finding ATSA in-between Camp Registrations?
Don't worry! We offer outpatient therapy throughout the year!
Clinical Procedures & Fees Associated with Camps
Moments from Past Winter Adventures!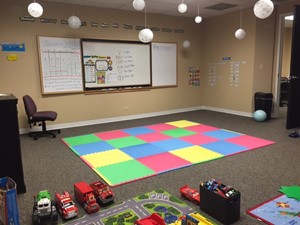 In preparation, ATS converts our meeting room into a Winter Adventure classroom! The WA facilitator and camp leaders stand near the white board to facilitate camp!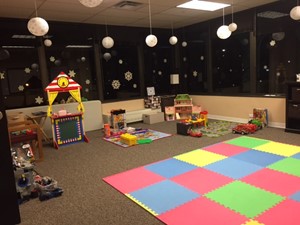 The free play areas are all ready for our campers!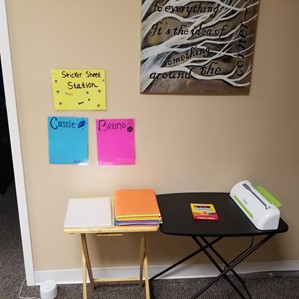 During Lead-In Sessions, campers create a special sticker sheet to use on Winter Adventure! They choose their favorite color paper, then decorate it and laminate it, so it lasts through all of our brave Winter Adventure activities!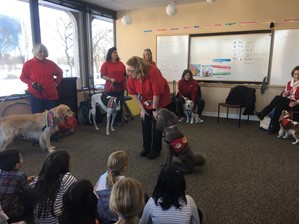 We welcome our our surprise guests (therapy dogs)!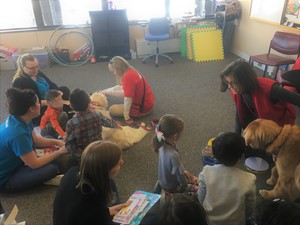 Two groups of campers are using verbal communication to interact with the dogs and dog trainers!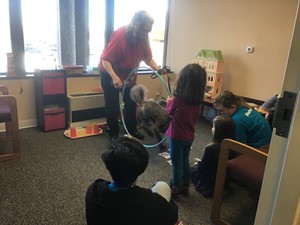 Therapy dogs tend to "open up" some of our most inhibited campers! The joys of pets!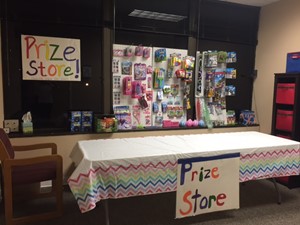 At the end of Winter Adventure, campers are rewarded for their brave efforts of the day at our Prize Store!
COVID-19 Current Safety Procedures
See how we ran AC 2020 during a pandemic