Adventure Camp Parent Packet
Adventure Camp 2021 Parent Packet Links
Welcome! Read our Cover Letter
The following documents are filled out when registering online through CampDoc. These are not to be filled out by hand and submitted. They are provided here for your review BEFORE registration opens so that you have time to read through them, but all registration happens online through CampDoc. Early registration for active patients begins Jan 21st at 10am Central Time. General registration begins Jan 28th at 10am Central Time. (Note that some of these documents are stored in our HIPAA-secure system, which requires a name and email to open.)
These additional documents are provided for your review, so that you can make an informed decision about treatment. 
Next Intensive Group Therapy: Adventure Camp 5-day Intensive
110 days 9 hours until camp begins. Only 5 slot(s) left
August 2nd - 6th, 2021
Early Registration for active patients opens Jan 21 at 10am central. 
General Registration opens Jan 28 at 10am central.
Just 1-2 slots left in each class (3 classrooms divided by age).
Camp Registration
Early Registration Begins January 21, 2021. 
Click to see how we ran AC 2020 during the pandemic!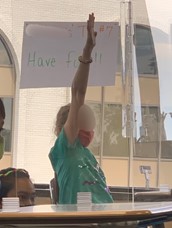 Brave Camper raising her hand to respond :-)