The quote on the right from William Faulkner captures how I felt when I started Advanced Therapeutic Solutions in 2011, and continues to capture how my team and I feel today. Reflecting back on those early days of ATSA. I knew there was a need for better treatment out there, but thinking out of the box and moving away from the norm was incredibly intimidating. What if it didn't work? Then I realized - that's what you're thinking, too. What if this treatment doesn't work? The treatment we provide is evidence-based, but there is also an art to delivering evidence-based treatment. Years of practice have shown me the importance of creativity in tailoring and adapting methods to provide sound treatment with effective outcomes, especially for conditions requiring a specialist approach. It demands my team to channel their creativity in how they apply treatment, get around obstacles, and yield effective outcomes, with patients feeling all the more empowered as a result. I have faith in the science behind the treatment. That's why I took the leap of faith to start ATSA to begin with. Even though I felt intimidated then, I also felt certain, and I continue to feel certain now. In my fear, I found my brave. I hope that you, too, will find your brave.
"You cannot swim for new horizons until you have courage to lose sight of the shore."
- William Faulkner
Next Intensive Group Therapy: Winter Adventure 2024
40 days 9 hours until camp begins. Only 10 slot(s) left
Monday, January 15, 2024

Camp Registration
Videos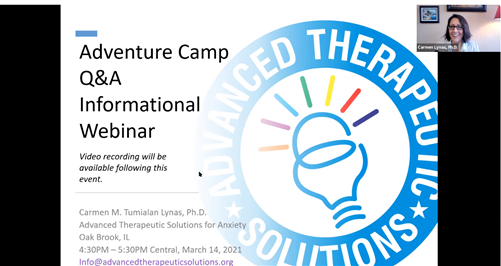 Adventure Camp During the Pandemic
How to Get Reimbursed by Insurance
ATS-Kurtz Selective Mutism Seminar 2016
ADVENTURE CAMP CHICAGO
Upcoming Events
Child Group Therapies such as Come Play, Courage Club, Lunch Bunch, and Social Exposure Groups are open for registration!
Courage Club and Come Play groups are "closed groups" meaning that each session builds upon the last, so you register for up to 6 sessions. Lunch Bunch and Social Exposure Groups are "open-group registration" meaning you have the flexibility to pick and choose which session(s) to attend. 
If you are have trouble on our site or want to share your thoughts, feel free to call us at 630-230-6505 or click here to give us feedback. 
#UseYourBrave